The dream: the Schallmauer Automatik as an automatic watch
1969 was an outstanding year for mankind: Woodstock, the moon landing and the release of the automatic chronograph caliber were just a few of the many drastic events and achievements.
The latter in particular had a major impact on the watchmaking world. Mechanical calibers and their user-friendly types with automatic winding illustrate the special craftsmanship that goes into a watch. For many watch enthusiasts, therefore, only mechanical watches come into question.
These enthusiasts, among whom you may well be one, have repeatedly confronted us with the same question: Why doesn't the Schallmauer come with a mechanical chronograph caliber as a hand-wound or automatic? And that's exactly the question we'd like to answer here and invite everyone to share their thoughts on the matter.
Few options of automatic chronograph movements


Our Schallmauer with its Miyota quartz chronograph movement has done well for us and is selling very successfully. For the price of €300, the Schallmauer is absolutely valuable and in its price category certainly very high in terms of feel and choice of materials. The reason that the Schallmauer is not yet available as an automatic is that we could not find a movement that would allow us to implement it in a similar price range and with our quality requirements.
Schallmauer 2.0 = Schallmauer automatic chronograph
A "normal" automatic movement (3hand + date) is offered by some manufacturers and therefore, we were able to implement the Primus and also the Deep Sea with the modified Miyota 821A according to our wishes. With a mechanical chronograph, the options are much more limited, since it belongs to the more complex movement types. This makes the search for a caliber that fits our needs extremely challenging. But we have succeeded in planning an adequate successor that will take this family to a new, even higher level. Read on to find out more about our efforts and what's next for the Schallmauer Automatic.
No find at our "house supplier"
Our first option would actually have to be Miyota for the movements. We are very satisfied with the quality of the calibers and the excellent price-performance ratio. They can be modified well and a noticeable improvement in accuracy is possible through readjustment. In addition, maintenance is also easy to perform. Unfortunately, Miyota simply does not have a mechanical chronograph in its range.
The view to China
Then we checked another interesting option due to the price: movements from the Chinese manufacturer Sea-Gull.
These are based on classic Swiss calibers and are well executed. Chinese movements are often associated with a certain basic skepticism. If you can put this aside, the ST19 series and especially the ST1940 as an automatic with 36 hours power reserve is actually a good basis. With a deviation of about +/- 20 seconds per day, it is a good starting point to have it finally refined and regulated by our master watchmaker. Actually...
During the control of a test order, the spectrum ranged from fantastic values to a defect existing right at the beginning. Due to our quality demands, it is not a viable way for us with such production tolerances and deviations.
A first option: Seiko
Another reliable market giant besides Miyota is Seiko, which has a caliber in its program that comes into question with its caliber NE86. With this movement, everything actually fits right away. The modifications needed for us were easy to implement for our master watchmaker. The movement is robust and can also be regulated to further increase the accuracy.
However, Seiko already charges a price of just under 300€ for its standard version. So the price still without any finishing on the movement, rotor or the date disc. Therefore, this option did not appeal to us either. However, it also came to a realization: if we are already in this price range in our search, then it can go a step further....
No compromises: The Swiss Heart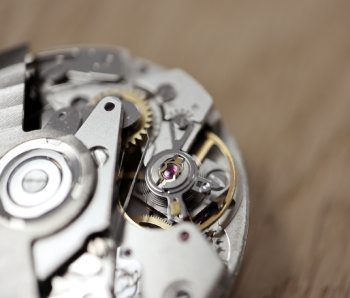 It became clear to us that if we were going to create an automatic chronograph, we had to do it right. The real deal, the epitome for many watch fanatics: the Swiss heart!
We discussed for a few days how we could improve an automatic version of the Schallmauer in addition to the caliber. We planned and changed again some proportions, materials and functions to finally create a worthy Schallmauer automatic, based on a modified Sellita SW510BH. An adapted date disc, an individually decorated movement and a specially for us designed rotor make the caliber very unique. We also included the option of a chronometer certificate.

A big step for a young brand
With such a Swiss movement, the purchase price is already over 400€ for an unmodified movement. With modifications and a chronometer certificate, the price is significantly higher. And we are only talking about the movement here. Costs for case, crystal, assembly, packaging, shipping, etc. are not even considered.
So in the end, such quality would have its price. The regular retail price would have to be around 1,500€. As a newly founded brand, immediately calling up such a price didn't seem like the right way to go. Now we are ready for it.
The Schallmauer automatic flies approaching
The automatic Schallmauer can only be called a matter of the heart. That is why we are pleased that we are written to and approached again and again about this not yet existing version. Through the experience gained in the last year and the positive response of our customers, we are now ready to bring a great Schallmauer automatic to life!
It will be another notch higher in terms of specifications - even beyond the movement. Our plan is to present these watches in a crowdfunding campaign and there offer all supporters a particularly attractive entry price.
Be up close to the development
The Schallmauer Automatic will be something very special - the best VANDAAG yet. And you can be part of the development early on and help us in various ways right now. If you want to support us with ideas/opinions or purchase announcements ;) and/or want to follow the developments, you have the following possibilities:
1.) Subscribe to our special "Schallmauer Automatic" newsletter now and we will keep you up to date. We will also ask all subscribers a question or two and take the feedback into account when making our decisions. And you will be the first to hear about each of the great specifications of the Schallmauer Automatic.
Enter your mail address here and click on the link in the confirmation mail (also check your spam folder). We will only send you mails with content about Schallmauer Automatic, we promise!
2) Answer a few quick questions in the survey below (german):
3) You are also welcome to send us your thoughts and ideas about the Schallmauer Automatic by e-mail. Or just call us at 0441 - 24923550.
Thank you very much for your help.
Tim, Malte and Andre from VANDAAG